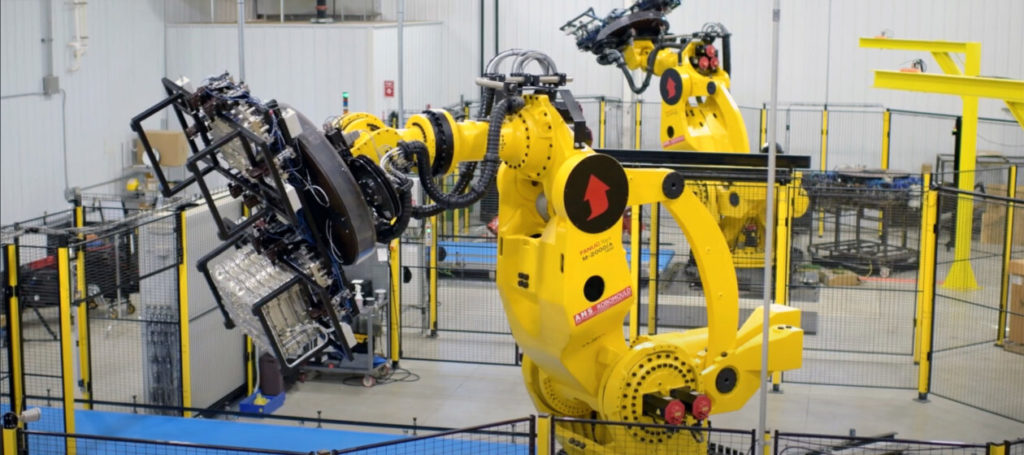 GEMSTAR BECOMES FIRST CASE MANUFACTURER TO USE ROBOMOLD™ ROBOTIC ROTATIONAL MOLDING PROCESS
Double-walled STRONGHOLD® cases now produced by two rotational molding techniques: traditional and robotic
Cannon Falls, MN – January 4, 2021 – Gemstar Manufacturing, a protective hard case manufacturer for over 50 years, continues to innovate by utilizing new robotic rotational molding technology in the production of its double-walled STRONGHOLD® cases. Gemstar, a division of Gemini, Inc., is the first case manufacturer in the USA to use robomolding technology thanks to its partnership with sister-division Robomold™ Plastic Solutions.
Drawing from nearly 60 years of plastics manufacturing expertise, Robomold Plastic Solutions (RPS) is a vertically integrated manufacturer with a wide array of manufacturing capabilities. In addition to robotic rotational molding, RPS offers traditional rotational molding and thermoforming processes. Both Gemstar Manufacturing and RPS offer expert engineering support, comprehensive testing, and secondary assembly services and are ISO 9001:2015 certified.
Gemini became the first manufacturer to have robotic rotational molding (robomolding) technology in the USA. This new technology modernizes traditional rotational molding through electronically controlled application of heat, 5-axis motion, automation, and modern data collection.  Robomolding gives engineers more control over quality in difficult-to-mold areas, allowing for more complex, multi-layer, multi-material variable wall thickness plastic parts with high impact strength.
STRONGHOLD cases by Gemstar are manufactured on both rotational molding platforms – traditional and robotic – to meet the most demanding application requirements. Cases are double walled, with polyethylene construction, thick corners, and recessed, heavy-duty stainless-steel hardware. STRONGHOLD delivers extreme durability, interlocking stackability, and watertight, airtight protection to IP67 that meets or exceeds MIL-STD 810F and military LLRC standards.
About Gemstar
For over 50 years, Gemstar Manufacturing has been designing and manufacturing protective hard cases for a wide variety of industrial and commercial applications. Made in Cannon Falls, Minnesota, USA, Gemstar uniquely offers three distinct hard case product lines comprising hundreds of styles, sizes, and options to meet the most demanding applications. Call 1-800-533-3631 for more information