SITUATION
A plastic frying oil dispensing wand handle cover to replace an existing injection molded design that was breaking in the field.
SOLUTION
The existing injection molded part was failing, because the design and molding process caused a high amount of stress in the part. Rotationally molding yields a stress-free part, so it is appropriate for high abuse applications. However, rotational molding can be difficult for designs where different parts need to snap or fit tight together. The inside of the part is untoleranced, and formed features need generous radii for material flow. Since the RTI part needed to fit over the wand squeeze-spout assembly in at least two parts and fit together tightly, traditional rotomolding on its own was a challenge.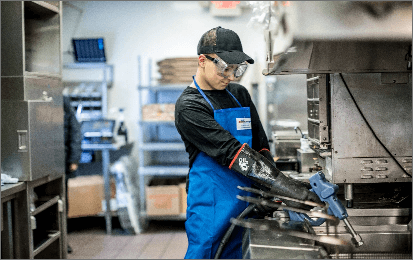 RESULTS
Gemstar Custom Part Solutions' experience in molding complex parts was aided by our 5 axis routing capability. Our design and manufacturing engineers designed a durable molded part that was then machined on our 5 Axis router to create effective mating surfaces.
Gemstar's engineers worked diligently in collaboration with RTI to create the ideal solution to meet all their needs.