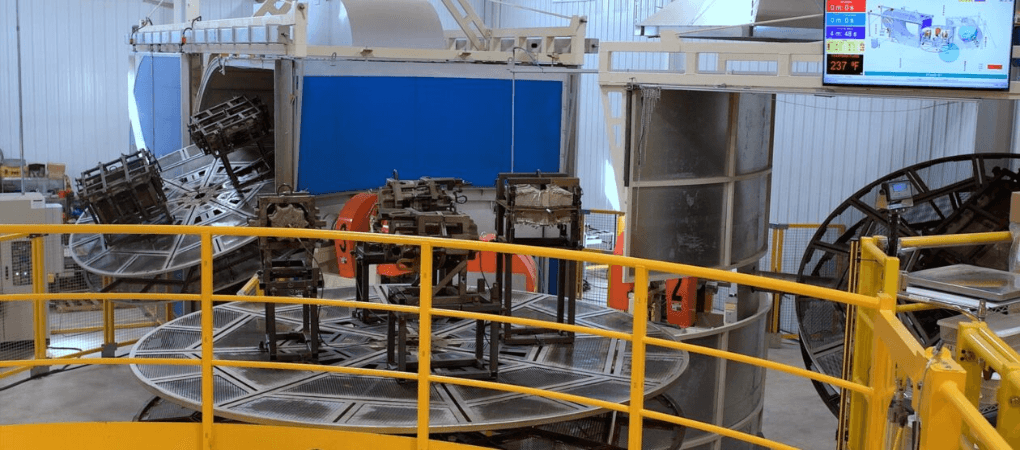 HOW IT WORKS
Dry, powdered plastic is added to a closed mold which is then rotated through a heating and cooling cycle. The result is a stress-free, robust part with excellent impact strength. As a result of this process, the interior of each part, where the plastic form does not come in contact with a mold surface, is effectively an uncontrolled surface. This means that tolerances cannot be applied to the inside of the part, unless the surface is subject to a secondary cutting or facing operation after molding. Wall thickness can also vary throughout the part, though material can be accumulated in specific areas or thinned in different areas during forming by mold construction features which either encourage heat to the area (thicker walls) or mask to prevent heat (thinner walls).
A feature unique to rotomolding is molded-in metal inserts. These inserts are added by attaching them to the mold prior to adding powder so that they are permanently molded into the final plastic part. These inserts can have a variety of threads or fittings to work with your mating components.
Another feature that can be formed with rotational molding is a kiss-off, where the mold walls are close enough that when plastic forms over them the two walls touch each other, which can add strength to these areas. This feature is achieved through both mold construction and shot weight and can take a little effort to dial in during pre-production part validation. Techniques likes these are what make Robomold's special brand of precise plastic solutions.