Design Tips: Airtight and Watertight Protection for Large Reusable Containers
Overview
The standard size of a reusable plastic case would seem to preclude its use to package large, heavy items. However, just because a part is big and bulky doesn't mean that it cannot utilize a custom, airtight, reusable plastic case. Large industrial, aerospace, military, and automotive components in particular can benefit from this type of durable packaging.
A combination of mechanical structures and mounting and cushioning methods, along with unique labeling and custom accessories, can adequately contain and protect the parts for the long haul. The following are several items to consider when designing a custom long life reusable container (LLRC) into an airtight, durable, plastic case.
Airtight/Watertight Protection
One of the greatest benefits of using plastic cases for an LLRC is that they can be manufactured to be airtight and watertight, a significant difference from traditional wood crate options. Tongue and grove, gasketed parting line is a typical feature of molded plastic cases and is utilized on larger cases, as well. Hardware can be attached using gasket technology or non-penetrating fastening methods. These large cases will need either multiple pressure relief valves or a single specialty PRV for the increased volume over smaller cases. For humidity control, using a basket to hold desiccant that can be accessed externally will make it easier to recharge without having to open the container. Opening large containers can be cumbersome due to size and removable lids, which are common on larger cases.
Shock Isolators
The majority of hard sided cases use foam for cushioning case components. It works well for small to medium equipment with delicate to moderate fragility, is easy to fabricate, and it interfaces well with different part geometries. However, foam is not always the best option when parts are very large and heavy. In these applications, compression mounts or wire rope isolators are better options for protecting from shock and vibration.  Wire rope isolators in particular are appropriate alternative for LLRCs. Capable of meeting MIL-STD 810 and ASTM 4169, their rugged all-metal design provides multi-axis isolation, they require no maintenance, and they are unaffected by chemicals, oils, ozone, abrasives and temperature extremes. They can easily be mounted to custom deck plates or cradles to secure and support large parts, even those with complex geometries.
Reverse Applications
The typical split for a plastic case is a shallow lid and a deep base. On large applications, though, it can be best to reverse this split so that the bottom of the case is shallow and the lid of the case is deep. This makes it easier to lift the part clear of the case, without having to rise above the case walls. In this case orientation, forgo hinges and instead use all latches so that the lid can be lifted up and set aside and the part inside will be easier to access.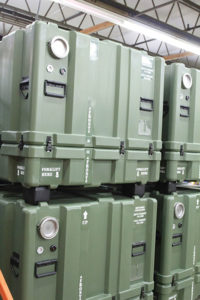 Mechanical Handling
Typically, cases that are over 100 lbs. are mechanically handled forklifts and pallet jacks. Lifting straps can also be employed to both maneuver the case around and to lift large, heavy parts out of the case. Foot blocks and risers can be added to raise the case up and provide access for forks. Bash plates along the side of the cases can help prevent damage from fork handling. Lifting rings can also be added to help lift either the lid off or to pick up the the entire case. Mechanical handling is also important to consider for cushioning design and construction. For example, cushioning above the item in the case lid isn't always necessary, because the part won't likely subjected to impact on its top face. Large cases are subject to lower drops that affect the bottom and bottom edges. This is evidenced in the difference in case shock and durability tests, such as ASTM 4169 or MIL-STD 810, which are designed according to the type of handling a package would typically experience in standard deployment and shipping. These tests require lower drop heights and limit the impact surfaces to the bottom and bottom edges for large, heavy containers. Sled impact tests subject the vertical sides of the case to impact while the case is in its standard upright orientation.
Labeling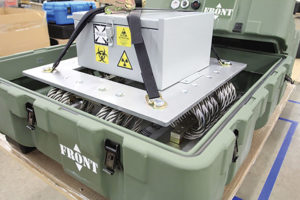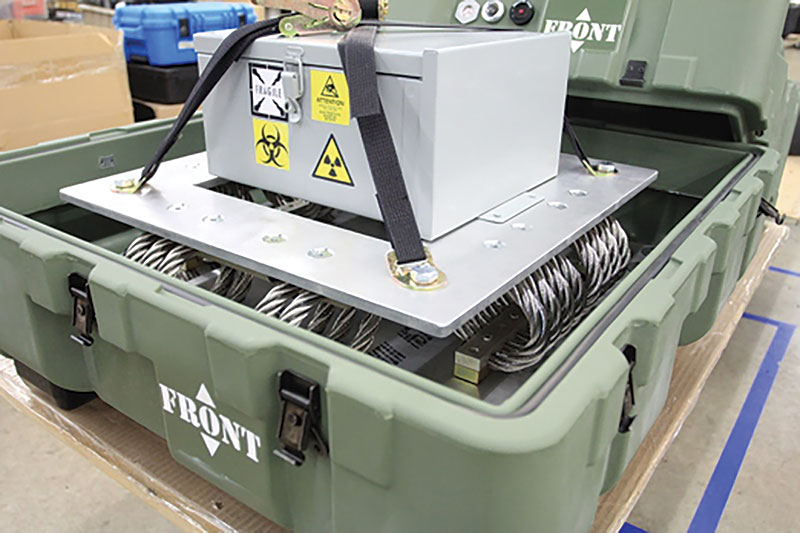 For case exterior labeling on LLRCs, instructions for handling can help to prevent damage and ensure proper engagement with lifting tools. Permanent stencil markings such as "FORK HERE", up orientation arrows, and lid-to-bottom alignment arrows will greatly contribute to proper handling of the LLRC. If the case and item are particularly heavy, "DO NOT STACK" might be appropriate to include. Another item that is good to stencil is weight of the case both empty and loaded. This helps confirm whether the case is loaded or empty without having to open the lid which can prevent incorrect storage or shipping of an unloaded versus a loaded case. Adding "REUSABLE CONTAINER, DO NOT DESTROY" can also help to ensure that the empty containers are retained for reuse rather than discarded or destroyed, something more typical for wooden creates.
Learn more about Gemstar in-house case testing.