eSquared Mobile Logging Device
Custom Case Need:  A lightweight and tough case to house an electronic logging device system, designed by eSquared Communications, for use in commercial motor vehicles. The system needed to be integrated with the case so that a tablet could be mounted to the lid for easy viewing from a driver seat and stay connected, through the case, to a charging and vehicle communications wiring system. After use, the tablet and cords needed to easily be stored in the same case.
Case Solution: The logging system was created to comply with a new Department of Transportation mandate, which means that the design and production needed to happen fast in order to meet a legal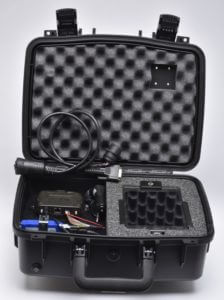 deadline for eSquared's customer.  After defining the design parameters, Gemstar jumped into action.  The Sentinel 1116-6 case was the right size to hold everything and still stay portable. 5axis machining was done to the case to create holes for mounting the tablet and access ports for the cable connectors.  A plastic panel in the case created a shelf to mount the modem and connectors and to contain the wiring system.  A foam set was designed to house the tablet while not in use, with wiring channels so that the tablet could stay connected while either inside or outside the case.
Adam Shapiro, Strategic Account Manager for eSquared, states that "Gemstar took our deadlines seriously, and they worked hard to create a design that could both be executed fast and that met our customer's needs. We were able to get things in the design that we weren't sure were possible."