NEWS RELEASE
Design, Test, Build: Gemstar Manufacturing Refreshes Custom Part Solutions Division with New Name, Website, and Manufacturing Equipment Investments
Custom Part Solutions, a division of Gemstar Manufacturing, designs, tests, and manufactures high-quality, precision-based custom parts for military, OEM, industrial and commercial applications.
Cannon Falls, Minnesota – To meet new demand and drive future growth, Gemstar Manufacturing continues to invest heavily in Gemstar Custom Part Solutions, a division focused on fully custom-engineered solutions for OEM, military, industrial and commercial applications offering unmatched precision, quality, and repeatability.
Gemstar Manufacturing is supporting the development of this division with new investments in design, tooling, testing, and manufacturing equipment. Building on an expansion at Gemstar's manufacturing facilities in Cannon Falls, Minnesota, Gemstar Manufacturing refreshed the Custom Parts Solution business with a new website, www.gemstarmfg.com/custom-parts.
"As we continue to grow our custom part solutions business with our military, government, commercial, industrial, and OEM customers, we came to understand that it was critical to call out this business from Gemstar Protective Hard Cases," said Kevin Paulson, Director of Product for Gemstar Manufacturing. "Our intent is to clearly communicate the incredible value-add that we offer our customers when they partner with us."
Through Gemstar's Custom Part Solutions, the business provides four key services:
Design Development: Customers can partner with Gemstar's engineering and production team in the early stages of development to create parts that
meet stringent industrial and military standards.
Testing: Gemstar offers a variety of testing procedures to meet specific quality and performance standards required by its customers.
Tooling: Gemstar can design, manufacture, and qualify new tools faster and more efficiently by leveraging its tool-making expertise. With its tool
creation process under the same roof as the manufacturing process, customers will know the resulting tool will be produced to the exact specs needed to accomplish the job.
Manufacturing: Gemstar Custom Part Solutions can manufacture a wide range of custom parts by applying three different forms of manufacturing – robotic rotational molding, traditional rotational molding, and thermoforming.
Gemstar is proud to be the first manufacturer in the United States to offer robotic rotational molding. Gemstar's proprietary Robomold® Technology provides precision plastic solutions with fully automated capabilities. Robomold Technology provides product consistency and repeatability, material control, and superior quality. This technology allows Gemstar to produce cutting-edge plastic solutions, such as multi-layer products not previously available in conventional rotational molding. For these reasons and more, Robomold technology is ideal for military, OEM, industrial and commercial applications where precision and unsurpassed repeatability are key.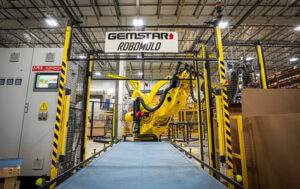 "We are a lean, nimble, and flexible team that offers high precision and high-quality products for a wide variety of applications," added Paulson. "Our investments in technology, talent and branding will better position us for the future and enable us to meet customer demand for custom part solutions."
To learn more about Gemstar Manufacturing, visit https://www.gemstarmfg.com/.
About Gemstar
Gemstar Manufacturing is an engineering-based solutions provider with more than 55 years of manufacturing experience and knowledge. The company is a family-owned business supported internally by long-term employees. The firm's history is rooted in custom manufacturing, and the dedication of a customer-centric organization. Gemstar's mission is
"To test the limits of plastic manufacturing and exceed the expectations of customers."
Release date: January 26, 2023