NEWS RELEASE 
May 17, 2023
This article was exclusively written for Aerospace & Defense Technology Magazine April 2023 Issue.
To view the original publication, visit 
https://bit.ly/3IjIMK4
Robotic Rotational Molding Creates New Opportunities for Military and Aerospace Industries
Innovative robotic rotational molding technology allows for the use of new materials in manufacturing parts and hard cases for military and aerospace applications. This is creating opportunities for new product geometries, tighter tolerances, and less waste than traditional plastic molding.
Cannon Falls, Minnesota –By Corey Latuff, Engineering Manager Gemstar Manufacturing
There are thousands of applications within the aerospace and defense industries that call for plastic parts and storage containers. Today, the production of specialized parts and protective hard cases for our nation's military can call for unique materials that meet more stringent standards (flammability, high heat/cold tolerances, airtightness, watertightness, EMI shielding, multi-layering, to name a few). Meeting these strict requirements can be challenging when using traditional molding processes such as rotational molding, thermoforming, blow molding, or injection molding.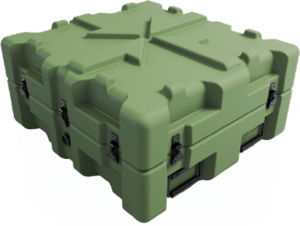 In recent years, a growing number of companies have turned to robotics to enhance their manufacturing capabilities. In the world of specialty plastic molding, robotic rotational molding offers a new approach for designing custom parts and protective hard cases. This technology allows for precise control of multiple heating and cooling zones, customized material flow, optimized material use, increased product quality and part traceability, instant cycle data collection, reduced cycle times, focused cycles for highly engineered resins, and the elimination of labor-intensive processes.
Robomold® robotic rotational molding is a leading-edge technology that's ideal for military, OEM, and aerospace applications where precision and repeatability are essential. This robotic rotational molding technology allows for tighter tolerances, which can be held with precision-distributed heat and material control for consistent part-to-part repeatability and optimized strength-to-weight ratios. It also allows for unsurpassed design flexibility, which includes the ability to layer different compounds and coatings into finished parts where conventional rotational molding cannot satisfactorily meet evolving design requirements.
Robomold technology is ideal for:
Creating unique product geometries
Meeting tight tolerances
Utilizing highly engineered resins with unique properties
Producing lighter specialty components and hard cases
Meeting reinforced mechanical properties
Meeting or exceeding MIL-STD 810F and military Long Life Reusable Case (LLRC) standards
Utilizing materials that are difficult for traditional molding methods
Preventing electromagnetic interference (EMI)
Implementing a fully automated manufacturing process
Enhanced process control
Many parts and hard cases needed for aerospace and defense applications require high heat resistance. Traditionally, to meet those tolerances, manufacturers prefer metals, such as aluminum or steel because of their heat resistance.
However, there may be some applications where heat-resistant plastic, such as Polybenzimidazole (PBI), can match the performance of some metals, in terms of heat resistance, wear and tear, strength, and longevity. PBI is one of several high heat resistant plastic materials that lends itself well to robotic rotational molding. This technology allows for more exact temperature control with numerous control zones used to reach the ideal temperatures needed. These zones can be adjusted throughout the cycle and are strategically placed throughout the tool. Our engineers can adjust process parameters with real-time data to ensure the product meets customer requirements.
For example, our company has the ability to designed duct work parts for military vehicles. With Robomold, we are able to use a new, heat resistant material, which offers high flexibility for vehicle assembly. This same part would be very difficult to manufacture using traditional molding processes.
Layering Materials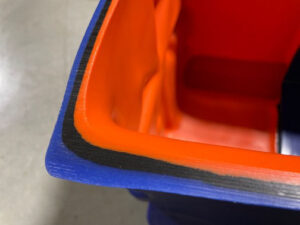 One of the key advantages of robotic rotational molding is automatically layering different materials to obtain a desired specification.
To clarify, it's not that you can't use the same materials in traditional rotational molding. It's just that some materials are better suited for robotic rotational molding because of its unique ability to control heating and cooling by zones. The application of controlled heat is much more difficult to achieve in traditional manufacturing processes.
For example, robotic rotational molding allows for the design and manufacturing of a three-layer protective hard case with EMI shielding requirements. Prior to this, the most common option for EMI-shielded cases was a metal case, which is heavy and dents easily. Robotic rotational molding eliminates the metal and allows for a layer of EMI shielding material to be sandwiched between the layers of plastic to obtain the same shielding effect while reducing the weight of the hard case.
Reducing Waste/Going Green
Another key factor in deciding which molding process is right for your product is waste minimization. Certainly, all manufacturers want to reduce the amount of material they use in the manufacturing process, both from a cost and environmental perspective. Because robotic rotational molding optimizes the amount of material needed to manufacture a part or case, the amount of scrap is dramatically reduced in comparison to other molding procedures. More accurate molding means fewer product defects. In addition, robotic rotational molding will reduce cycle and changeover times. All of these reductions add up to a more consistent process and may help some organizations meet their environmental, social and governance (ESG) commitments.
Unchallenged aesthetic properties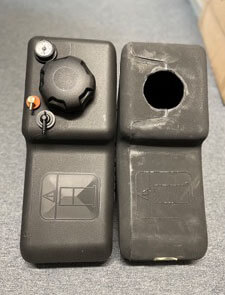 Because the manufacturing process is fully automated and involves a six-axis robot, Robomold robotic rotational molding will increase product consistency and quality. Figure 1 offers an example between the manufacturing of a fuel tank using robotic rotational molding (left side) compared to conventional rotational molding (right). This part demonstrates there may be some products for which robotic rotational molding offers a better solution in comparison.
Bottom Line: Meeting Standards
The military and aerospace industries need millions of specialty components and storage units to protect sensitive assets. While there are many efficient and proven techniques to manufacture these parts and products, there is now another manufacturing option design engineers can consider in helping them achieve their goals of reaching a desired finished good. Robotic rotational molding allows for new materials and designs to be incorporated into product development not achievable with other types of molding processes. This new technology increases the range of product geometries, as well as environmental tolerances. Overall, Robomold robotic rotational technology has brought a new way of thinking to our design team as we approach solutions to customer challenges.
Corey Latuff is an engineering manager with Gemstar Manufacturing, based in Cannon Falls, Minnesota. He has more than 10 years of experience in product design and engineering.
About Gemstar
Gemstar Manufacturing is an engineering-based solutions provider with more than 55 years of manufacturing experience and knowledge. The company is a family-owned business supported internally by long-term employees. The firm's history is rooted in custom manufacturing, and the dedication of a customer-centric organization. Gemstar's mission is "To test the limits of plastic manufacturing and exceed the expectations of customers."