Gemstar Protective Hard Cases Create EMI-Shielded Case for U.S. Military Applications
When determining what goes in a U.S. Navy helicopter, every inch – every fraction of an inch – matters.
When NuWaves Engineering needed partners that were up to the challenge in developing a new protective hard case for its customer, the U.S. Navy, it turned to The Case-Center and Gemstar Manufacturing.
ABOUT THE PARTNERS
NuWaves Engineering is a leader in designing and developing Range Telemetry Tracking Systems for the Department of Defense (DoD) and other Prime Defense Contractors.
The Case-Center, one of Gemstar's technical distributor partners, provides customized, reusable plastic shipping and carrying cases to protect, organize, and pack all types of mission-critical equipment.
THE PROJECT
NuWaves Engineering received a project to create a rotationally molded, double-walled, electromagnetic interference-shielded case for the U.S. Navy to house the Shipboard and Rotary Wing Tracking Unit in a tight space on the aircraft. The telemetry unit is responsible for relaying sensitive information such as GPS coordinates. A case that can prevent electromagnetic interference (EMI) was required in order to maintain the integrity of the data.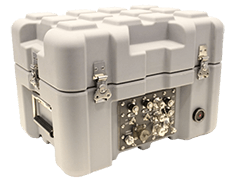 CHALLENGES
"This case needed to fit behind the pilot's seat in Navy helicopters," said Barry Birkholz, Director of Technology Packaging at Gemstar. "As you might imagine, we were working with a very tight space to fit this case, while at the same time, making it easily accessible."
Beyond meeting a tight space, the case had to meet several other design requirements, including:
• The hardcase must prevent all forms of EMI
• The surface of the case must allow for the use of electronics immediately outside the hard case
• The handle on the case must meet a military standard handle test for free-fall hanging
• The hardcase must pass the IP67 splash test
• The use of hardware (handles, hinges, latches, etc.) must be salt resistant
• The case must include internal cooling vents within the flange area
With these stringent specifications in mind, the Gemstar team recommended customizing a Stronghold® case for this project.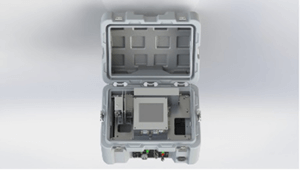 The unit was built with a Stronghold® protective hard case by Gemstar, which offers a wide variety of options for customization.
Stronghold double-walled cases boast GSR™ high-performance resin, patented latches, rubberized spring-loaded handles, recessed hardware, and interlocking stackability. This military-grade hardcase is designed and tested to meet or exceed MIL-STD 810F and military Long Life Reusuable Case (LLRC) standards. These cases are airtight, watertight, and double-walled. Most importantly, they can be customized internally to ensure proper protection of sensitive assets. Stronghold cases are available in over 134 sizes.
"Considering the nature of this project," said Birkholz, "we knew that Gemstar's Stronghold case would be the perfect choice to meet the end user's rigorous needs."
"Using the Stronghold as a base, our engineering team further enhanced it to meet the Navy's specs," Birkholz added. "For example, they developed a waffle pattern on both the top and bottom of the case to dissipate heat. They used a cut-and-weld rapid prototype to verify fit and overall dimensions, as part of the engineering process."
With just 12-18 months, NuWaves Engineering, The Case-Center, and Gemstar developed a state-of-the-art, EMI-shielded case to replace a metal container in US Navy helicopters.
TEAMWORK MATTERS
Together with NuWaves and The Case-Center, Gemstar developed a hard case solution that the U.S. Navy has implemented on more than 200 aircraft. All three organizations credit the strong collaborative efforts and communications that contributed to their success.
"The Gemstar team was great throughout the entire design, prototype, and build process. This project had many unique challenges, including EMI, electronic integration, etc. Gemstar stepped up to the plate and delivered a great solution," said Jeff Kling who worked with The Case-Center at the time.
Birkholz added, "It was a pleasure developing a program and working alongside a valued distributor, The Case-Center, and the folks at NuWaves. It started out as an impossible challenge but once we collaborated with the customer, engineering, distributor, and outside resources we came up with the perfect solution."
READY TO SERVE AMERICA'S MILITARY
Gemstar designs and manufactures hard cases specifically for military applications. To learn more about Gemstar's expertise in military and government applications, contact us here, or call us at 800.533.3631.