TECH NOTE: Robomold® Robotic Rotational Molding
ROBOTIC ROTATIONAL MOLDING BRINGS NEW DIMENSION IN PERFORMANCE AND PRODUCTIVITY
Robomold

®

Technology

: For Custom Parts and Protective Cases
Gemstar is the only U.S. manufacturer to offer robotic rotational molding. The company's proprietary Robomold® manufacturing technology is the plastics industry's most innovative robotic rotational molding system that provides precision plastic solutions with fully automated capabilities. This one-of-a-kind technology delivers product consistency and repeatability, material control, and superior quality.  
Robomold technology allows Gemstar to produce cutting-edge plastic parts, such as multilayer products with quality and consistency not previously available with conventional rotational molding. The Robomold process leverages the latest cutting-edge robotics technology to deliver the most precise fabrication and finishing capabilities possible. It is ideal for military, OEM, industrial, and commercial applications where precision and unsurpassed repeatability are required. 
Unparalleled Process Advantages
In the world of specialty plastic molding, robotic rotational molding offers a new approach for designing custom parts and protective hard cases. This computer-controlled technology allows for precise control of multiple heating and cooling zones, customized material flow, optimized material use, increased product quality, and part traceability. It also offers instant cycle data collection, reduced cycle times, focused cycles for highly engineered resins, and the elimination of labor-intensive processes. 
The core of this technology is a six-axis robot which delivers a greater degree of rotation than traditional rotational molding. Instead of using a heating oven, the robot tumbles the electrically heated mold which incorporates a multitude of separate heating zones. Direct heat applied to these zones enables plastic resin to reach its ideal processing temperature and permits manufacturers to create geometries that were previously unattainable.  
Robomold®'s precision-distributed heat and material control also results in tighter tolerance control and optimized strength-to-weight ratios. The product design team works to develop specific process parameters, creating a highly repeatable process, unlike the highly variable standard rotational molding process. It also allows for unsurpassed design flexibility along with the ability to layer different compounds and coatings into finished parts. 
Custom Parts Get Big Lift from Robomold
As end-use requirements become more stringent, Robomold robotic rotational molding is finding greater use in custom applications. For example, a leading fuel tank manufacturer overcame design challenges and unacceptable production rates by turning to the Robomold process. This specific part was nearly impossible to mold with conventional rotational molding due to unique geometry requiring an overflow funnel inside the gas tank. Prior funnel features lacked consistent production quality that did not align with the customer's quality standards.  
The Gemstar team engineered and built an in-house a specialty tool for this project from start to finish. The tool allowed Gemstar's Robomold robots to apply controlled and focused heat to specific areas on the funnel feature, fine tuning critical design elements. The new tool provided consistent wall thickness and geometry control as the funnel is near the cap thread on the gas tank. This funnel feature breaks traditional rotational molding capabilities as the standard manufacturing process forms hollow parts and part of the funnel is inside the tank. Moreover, this part was manufactured with a newly engineered polyoxymethylene (POM) acetal resin. For more information, read the case study here: https://www.gemstarmfg.com/education/specialized-fuel-tank/  
New Opportunities in Military and Aerospace
Today, the production of specialized parts and protective hard cases for the nation's military call for unique materials that meet more stringent standards (flammability, high heat/cold tolerances, airtightness, watertightness, EMI shielding, multi-layering, etc.). Meeting these strict requirements can be challenging when using traditional molding processes such as rotational molding, thermoforming, blow molding, or injection molding.  
Robomold robotic rotational molding is a leading-edge technology that meets the needs of military, OEM, and aerospace applications where tighter tolerances and precision heat and material control are required. 
In military/aerospace applications, Robomold technology is ideal for: 
Creating unique product geometries

 

Utilizing highly engineered resins with unique properties

 

Producing lighter specialty components and hard cases

 

Meeting reinforced mechanical properties

 

Meeting or exceeding MIL-STD 810F and military Long Life Reusable Case (LLRC) standards

 

Utilizing materials that are difficult for traditional molding methods

 

Preventing electromagnetic interference (EMI)

 
Multilayer Capability Brings Added Performance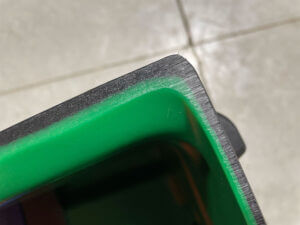 One of the key advantages of robotic rotational molding is automatically layering different materials to obtain a desired specification. For military/defense applications, Gemstar's preliminary work uses robotic rotational molding for the design and manufacturing of a three-layer protective hard case with EMI shielding requirements. The most common option for EMI-shielded cases has been a metal case, which is heavy and dents easily. Early development work indicates that Robomold technology could potentially eliminate the metal and allow for a layer of EMI shielding material to be sandwiched between the layers of plastic to obtain the same shielding effect while reducing the weight of the hard case. 
Robomold Sustainability in Action
Robomold also delivers a range of sustainability advantages compared to conventional rotational molding. Robotic rotational molding reduces cycle time by 25-30% with little to no scrap compared to traditional rotomolding. Researchers at Queens University Belfast1 recently reported that Robomold's electrical mold heating method takes significantly less time to heat the mold compared with a conventional oven, saving more than nine minutes (22%) with no appreciable difference in part quality. Another advantage of the Robomold system in terms of comparative energy use, is that the direct electrical heating method consumes approximately 15 times less thermal energy than the standard conventional forced air oven, according to the research. These results also show thermal efficiencies of around 3.5% for the forced air convection oven machine and 51% for the electrically heated Robomold machine, the technical report stated1. 
LEARN MORE
To learn more about the Robomold rotational molding process, visit https://www.gemstarmfg.com/.  
ABOUT GEMSTAR MANUFACTURING  
Gemstar Manufacturing is an engineering-based solutions provider with 60 years of manufacturing experience and knowledge. The company is a family-owned business supported internally by long-term employees. The firm's history is rooted in custom manufacturing and the dedication of a customer-centric organization. Gemstar's mission is "to test the limits of plastic manufacturing and exceed the expectations of customers," which is shown through their dedication to provide value-add solutions to customers through innovative design and technology. 
REFERENCES
McCourt, M., Kearns, M., Martin, P., and Butterfield, J. (2021, September). A Comparison between Conventional and Robotic Rotational Moulding Machines. School of Mechanical & Aerospace Engineering. Queens University Belfast