NEWS RELEASE
July 21, 2023
United States Representative Visits Gemstar Manufacturing in Cannon Falls, Minnesota
First District Congressman Finstad Visits Minnesota Suppliers of Government and Agricultural Markets.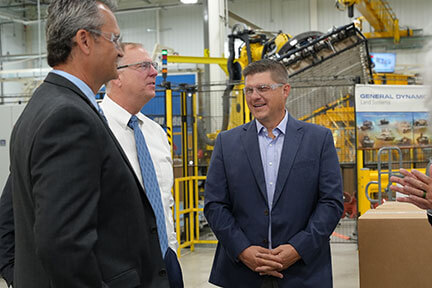 Minnesota First District Congressman Brad Finstad visited Gemstar Manufacturing the morning of Friday, July 21 for a one-hour tour of the company's facility to see the company's innovative Robomold® rotational molding technology, which is used to make components and parts for agricultural and military applications.
Congressman Finstad's visit allowed him and his staff to learn more about Gemstar's investments to better position itself for future growth while maintaining its manufacturing capabilities in the United States. Gemstar has invested millions of dollars in recent years in technological advancements to capitalize on growing marketplace opportunities.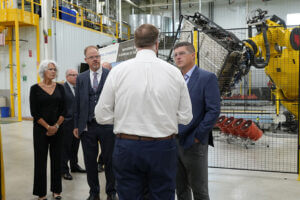 Congressman Finstad, a fourth-generation farmer and resident of New Ulm, Minnesota, chose to visit Gemstar because the company is a key manufacturer based in rural Minnesota that provides a premier service to the agricultural community. Gemstar is committed to being a strong, U.S.-based manufacturing partner to manufacturers of agricultural machinery and equipment.
Gemstar Manufacturing, headquartered in Cannon Falls, Minnesota, is an engineering-based solutions provider owned by Gemini Inc., a second-generation, family-owned manufacturing company celebrating its 60th year in business. Gemstar's full-service manufacturing capabilities include industry-leading, vertically integrated manufacturing processes, a fully staffed engineering team, in-house tooling, 5-axis routing, and full-service finishing.
During Congressman Finstad's visit he:
Received a tour of Gemstar's plant expansion – 45,000 square feet of new manufacturing space.
Experienced Gemstar products firsthand – hard cases and custom machine components manufactured for military and agricultural applications.
Watched Robomold rotational molding robots in action – used in the manufacturing of high-quality components, parts, and hard cases.
Congressman Finstad serves on the Agricultural Committee and the Armed Services Committee, including the Military Personnel and the Readiness Subcommittees. This emphasized the interest in how Gemstar Manufacturing serves our military and agricultural markets. Additionally, there was excitement regarding Gemstar's partnerships with other local vendors for raw materials and services.
Members of the press attended the event, which included a Q&A session with Congressman Finstad following the tour. For further reading, please see:
About Gemstar
Gemstar Manufacturing is an engineering-based solutions provider with more than 55 years of manufacturing experience and knowledge. The company is a family-owned business supported internally by long-term employees. The firm's history is rooted in custom manufacturing and the dedication of a customer-centric organization. Gemstar's mission is "To test the limits of plastic manufacturing and exceed the expectations of customers."