NEWS RELEASE
October 24th, 2023
Fuel Tank Made With Gemstar's Robomold® Technology Wins 2023 ARM Product & Safety Awards
Gemstar Manufacturing was awarded the 2023 Product of the Year at the Association of Rotational Molders annual meeting in Kansas City last month. 
Cannon Falls, Minnesota – Gemstar Manufacturing earned the Association of Rotational Molders (ARM) 2023 Product of the Year award for its specialized fuel tank manufactured using Robomold® technology. The entry sample offered a cutaway to see the internal features of the tank, including an anti-spill funnel in the filler spout in order to comply with EPA guidelines.
In addition to the Product of the Year Award, Gemstar Manufacturing also received the 2023 ARM Safety Award for having an exemplary safety year. The awards were granted last month at the annual ARM conference in Kansas City. 
2023 ARM Product of the Year Award  
The innovative fuel tank was recently featured in a product Case Study, as well as Tech Note co-authored by Gemstar and its vendor partner, Celanese. The Tech Note illustrates how Gemstar's partnership with Celanese, a global chemical leader, has allowed them to manufacture premium fuel tanks using single-layer acetal solution designed specifically for rotational molding.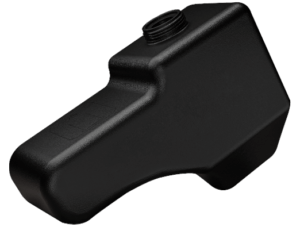 Celanese's Hostaform® POM RF delivers unparalleled toughness and rigidity, temperature resistance, wear resistance, and low fuel permeation while Gemstar's Robomold technology provides ideal precision repeatability necessary for highly specialized custom parts. This technology produces tighter tolerances, design flexibility, and high control that is unmatched in the industry.  
The innovative solutions provided by Gemstar and Celanese's partnership combine high-quality and EPA/CARB compliant products unmatched by its competition. The precise process allows for optimization of material and reduction of processing time by up to 50% compared to industry average. These tanks can accommodate a nearly endless array of fuel types and the streamlined design is formulated through a single-layer solution, contrary to other options on the market.  
The product is voted on by employees of ARM Member Companies who attended the annual meeting in Kansas City.  
To learn more about Gemstar Manufacturing and Celanese Materials partnership, visit https://www.gemstarmfg.com/education/technote_hostaform/  
2023 ARM Safety Recognition Award 
According to the ARM website, the purpose of the ARM Safety Recognition Award is to "highlight the importance of safety in all aspects of our industry". The award is granted to the rotational molder member with the lowest incident rate.    
"Safety is one of our core values, and it feels good to see our team recognized for it," said Mark Hedin, President of Gemstar Manufacturing. "I couldn't be prouder of our team for their accomplishments."
About Celanese Materials
Celanese Corporation is a global chemical leader in the production of differentiated chemistry solutions and specialty materials used in most major industries and consumer applications. Our businesses use the full breadth of Celanese's global chemistry, technology, and commercial expertise to create value for our customers, employees, shareholders, and the corporation. As we partner with our customers to solve their most critical business needs, we strive to make a positive impact on our communities and the world through The Celanese Foundation. For more information about Celanese Corporation and its product offerings, visit www.celanese.com.
About Gemstar
Gemstar Manufacturing is an engineering-based solutions provider with more than 55 years of manufacturing experience and knowledge. The company is a family-owned business supported internally by long-term employees. The firm's history is rooted in custom manufacturing and the dedication of a customer-centric organization. Gemstar's mission is "To test the limits of plastic manufacturing and exceed the expectations of customers."